Guaranteed Upholstery Cleaning Services In Holland Park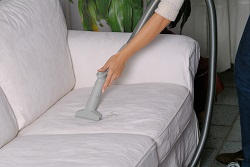 Upholstery Cleaning Services at Carpet Cleaning Holland Park in Holland Park, W8
At Carpet Cleaning Holland Park, we understand that everyone deserves to have a clean and healthy home or business. That's why we strive to offer the best upholstery cleaning services in Holland Park, near W8. We believe that with the right skills and support, people can make their spaces better for their health and wellbeing.

One of the most difficult surfaces to keep clean is upholstery. Without regular maintenance, it can quickly become a breeding ground for allergens, germs, and bacteria. But when you enlist our help, you can trust us to bring your neglected furniture back to life! Our team of experienced professionals has the know-how and dedication to deliver a fantastic finish on all kinds of upholstery fabrics including leather, suede, velvet and more.

We use advanced cleaning methods tailored for each type of fabric and our all-natural cleaning products are tough on dirt but gentle on your fabric. All you need to do is call us on

, book an appointment, and let us do the rest! We will happily travel to your property – no matter where you are located in Holland Park or W8 area – to provide an excellent service.


Our Upholstery Cleaning Process at Carpet Cleaning Holland Park

At Carpet Cleaning Holland Park, we use a six-step process for upholstery cleaning that guarantees great results. It includes vacuuming, deep-cleaning, treating stains, deodorising and sanitising. Here's a breakdown of our process:

Step One: Inspection
Our experts will inspect your pieces of furniture first because different fabrics require different treatment. They also check for any damages so they can plan out the cleaning process accordingly

Step Two: Vacuuming
This step helps remove surface dirt from the furniture by using powerful commercial vacuum cleaners that extract dust particles even from deep down inside your upholstery fabrics

Step Three: Pre-treatment of Stains
Stubborn staining marks such as coffee spills or ink stains need special pre-treatment before cleaning starts so that they don't set further into the fabric whilst we're working

Step Four: Deep Cleaning
In this step we use hot water extraction methodology that uses steam combined with a detergent solution to give your upholstered furniture a deep clean while protecting its fibres from damage

Step Five: Sanitising & Deodorising
We end our cleaning process by sanitising the furniture with an antibacterial spray designed specifically for upholstered furniture. We then apply a deodoriser to leave it smelling fresh

Step Six: Final Inspection
Finally, our team will inspect their work once again to ensure total satisfaction before they leave your residence or workplace.


Carpet Cleaning Holland Park offers professional upholstery cleaning services in Holland Park near W8 - call us today at

for more information.